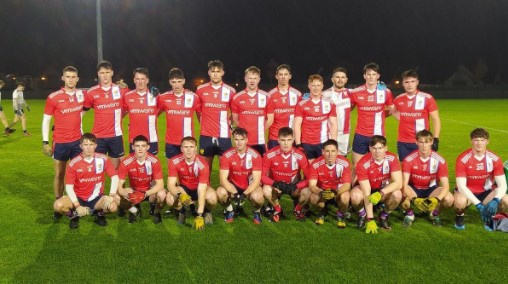 GAA
MTU Cork GAA : Camogie – Gaelic Football – Hurling – Ladies Gaelic Football - Handball
As befits a County with Cork's tradition in Gaelic Games, GAA has occupied a central role in the development of sport in the Cork Campus at MTU. Previously known as CIT and before that RTC, first occupied its Bishopstown campus in September 1974. The new college buildings were officially opened by that great Cork GAA exponent and Taoiseach of the day, Mr. Jack Lynch, in December 1977. A student GAA football team was formed in 1975 and the hurling team commenced playing activities in 1976. In the same way the campus has evolved and expanded so too has the GAA Club which as well as being the oldest sporting club at the Institute, with over 400 active members is also the biggest. 
While nobody knows exactly what the new academic year of 2021/22 will bring, one thing is definite – "Nothing will work unless we do", so if it's on – then we'll be ready to participate. 
The purpose or aim of the Student GAA Club in MTU is to encompass a sense of community identity through the medium of our National Games. Our club's objective is to make all aspects of the Gaelic Athletic Association, be it playing, coaching or administration, accessible to all that attend or work at the Institute. We aspire to encourage involvement in the hope that the experiences gained at Third level will encourage students to become active in their own communities long after they finish their formal education.

MTU has, like most of the higher-level establishments in Ireland, seen the importance and benefits of having a popular and successful GAA Club structure operating on its campus. There is now an expectation at institutional level of the GAA to compete at the highest levels and to be seen to actively promote the Institute in a positive and attractive way. Likewise, it has become clear to members that to be fully successful we must commit to generating a genuine sense of socio-cultural equality, with an authentic embracement of the differences between people and groups in our society.  The MTU Cork Campus Student GAA Club, therefore, have now decided to formally recognise Diversity and Inclusion in our Club. The decision was to come up with a simple, yet unique and valuable initiative that would acknowledge the broad of differences which make up our entire community by placing on all our MTU GAA Club Jerseys and Leisurewear our specifically designed Support Diversity and Inclusion Logo. We hope that this will be a tangible first step in showing our visible solidarity in the continuing the efforts in ensuring that equality must be continuously promoted in a context of creating a genuine respect for diversity and meaningful inclusion in our society.
MTU Cork Campus Student GAA Club –Player First
As a direct result of the positive atmosphere that surrounds the club, MTU Cork GAA continue to have within their ranks a cohort of committed, experienced and above all an enthusiastic coaches, mentors and players involved with all our teams. Today MTU Student GAA Club has a vibrant club structure which works consistently year after year ensuring that no stone is left unturned both on and off the field of play. It continues to capture the imagination of the students who attend our Institute as it has for the huge numbers that have worn the red and white hoops since 1975. Today, thanks to the continued support and backing of the Institutes authorities, we now have 3 GAA pitches-fully floodlit, the main one serviced by a 1,100 seated stadium, dressing rooms, medical and meeting rooms to the highest standards all which are regularly used by the wider GAA community for games and underage development.
Similarly, MTU Cork Student GAA Club has long established a strong commitment to the education and social inclusion principles promoted by the Institute. Over the last number of years, we have established strong links in all the various facets of the Student Support Services and have developed a reputation of being a student friendly and player centred club. We recognise that third level education is a time of transition, where a significant opportunity for influencing adult behaviours exists. We are also very much aware that because of the extensive demands placed on 1st Year Gaelic games players (e.g. independent living, work-study balance, etc.), MTU GAA Club aims therefore to provide appropriate support and guidance as they enter this new phase of their lives. This is done through effective induction processes, student mentoring systems and lifestyle coaching experiences. MTU Cork Student GAA Club oversees several initiatives from talks on Diet and Nutrition talks to Mental Resilience and such like.
Scholarships/Bursaries for GAA
MTU Cork Campus continue to support the Bursary scheme for GAA players at our Cork Campuses. In total 2020/21 saw 36 Bursaries awarded for Gaelic Games Bursaries varied in amounts from €500 to €1,500 and totalled a financial investment of €25,250 – including 10 Freshers, 6 Developmental, 13 Senior Developmental, 6 Senior and 1 MTU Sports Ambassador award.
For those who are looking for further information in this regard please feel free to contact the GAA Officer Keith Ricken @ keith.ricken@mtu.ie
Higher Education GAA 2021/22
At National Level, GAA remains the single largest Sporting Organisation in the Irish 3rd level sector with the latest figures showing that over 12,000 students are registered with the Higher Education GAA for the 2019/20 academic year, while Camogie and Ladies Football are also experiencing higher than ever participation levels.
MTU Cork Campus Student GAA Club was represented in 27 Intervarsity competitions during the 2019/20 academic year including handball. The highlight in terms of success was when the men's senior footballers captured the Trench Cup with an emphatic win over MICL in their final held at DCU. It means that the Institute will once again compete at the highest grades across all its codes in 2021. Our senior ladies Gaelic football outfit reached the final of the HEC Moynihan Cup but the current world pandemic meant the 2019/20 Academic Year ended prematurely with the final yet to be played.
MTU Cork also have a very active Handball Club which competed in all 3 Intervarsity Events as well as at the 2020 US Handball Collegiate Championships in Texas where two of students – David Walsh of Mallow and Adam Walsh of Wexford took gold in the men's senior doubles tournament for the 2nd year in succession.  All this underlines the continued commitment to the development of Gaelic Games at the Cork Campus. 


History
MTU Cork Campus Hurling Club National Successes
2001                       (CIT 2) Fresher 2 Championship

1978                       Division 3 League

2003                       Intermediate Championship

1979                       Division 2 League

2005                       (CIT 3) Division 3 Championship

1980                       Ryan Cup

2006                       Intermediate Championship

1989                       Ryan Cup

2008                       Fresher 1 Championship

1991                      Fresher 1 Championship

2009                       Fresher 1 Championship

1992                      Fresher 1 Championship

2014                       Intermediate Championship

1993                      Division 2 League

2015                       Intermediate League

1999                       Division 1 League

2016                      Fresher 1 Championship

2001                       Intermediate Championship

 

MTU Cork Campus Camogie Club National Successes
| | |
| --- | --- |
| 2001                                    Purcell Cup | 2014                    Purcell Shield |
2004                                    Division 2 League

2016                    Purcell Cup

2006                                    Ashbourne Shield

2017                    Ashbourne Shield

2012                                    Purcell Shield

2018                    Division 2 League




MTU Cork Campus Football Club National Successes

2002              CIT (3) Junior Championship

1979                     Trench Cup

2006              CIT (2) Intermediate Championship

1982                     Division 2 League

2006              CIT (3) Junior Championship

1990                     Division 3 League

2009               Sigerson Cup

1991                    Fresher 1 Championship

2011               Fresher 1 League

1993                    Division 2 League

2012               CIT (2) Intermediate Championship

2001                     CIT (3) Junior Championship

2016                CIT (2) Fresher B Championship

2020               Trench Cup

 

MTU Cork Campus Ladies Football Club National Successes

2007                 CIT (2) Division 3 League Winners

2014                 Division 3 League Winners

2015                 Division 2 League Winners

2017                 Fresher 7's Junior All Ireland Winners

2020                Moynihan Cup Final v UCD (Competition cancelled due to Covid-19 Pandemic)

 
Achievements
Hurling
Cork (20)                      John Hodgins, Jim Cashman, Sean McCarthy, David Quirke, Denis Walsh, Pat Ryan, Barry Egan, Kevin Hennessy, Kevin Murray, Brian Corcoran, Donal Óg Cusack, Ronan Curran, Martin Coleman, John Gardiner, Brian Murphy, Anthony Nash, Pat Mulcahy, Kieran Murphy, Paul Tierney, Cian O Connor,
Kilkenny (7)                 Pat O Neill, Philly Larkin, Aidan Fogarty, Jackie Tyrell, Michael Fennelly, Colin Fennelly, Ger Aylward
Tipperary (2)               Eugene O Neill, John O Dwyer
Clare (1)                        Patrick O Connor 
Limerick (1)                 Robbie Hanley
Camogie
Cork (13)                     Miriam Deasy, Emer O Farrell, Jenny Duffy, Eimear O Sullivan (Ballinhassig), Nora Aherne, Paula O Connor, Jessica Kavanagh, Sarah Buckley, Katyln Hickey, Eimear O Sullivan (Kilbrittan) Amy Lee, Lauren Homan, Saoirse McCarthy
Galway (1)                  Brenda Hanney
Wexford (2)                Linda Bolger, Lisa Bolger
Gaelic Football
Cork (21)                     Jimmy Kerrigan, Tony Nation, Denis Walsh, John Kearns, Paddy Hayes, Mick Slocum, Dave Barry, John Cleary, Conor Counihan, Daniel Goulding, Paul Kerrigan, Paul O Flynn, Colm O Neill, Ray Carey, Conor O Driscoll, Patrick O Shea, Graham Canty, Derek Kavanagh, Eoin Cadogan, Donnacha O Connor, Kieran O Connor
Kerry (15)                    Eoin Liston, Ger Lynch, Tom Spillane, Aidan O' Mahony, Mark O'Shea, Michael McCarthy, Darren O'Sullivan, Brian Sheehan, Seamus Scanlon, Mark Griffin, Brian Kelly, Brendan Kealy, Darren O' Sullivan, Barry John Keane, Pa Kilkenny
Ladies Gaelic Football
Cork (6)                       Juliet Murphy, Anna Maria Walsh, Jean O Sullivan, Jessica O Shea, Sinead Cotter, Emma Farmer,
Waterford (3)             Deirdre Nagle, Paula Walsh, Bridget Hannigan