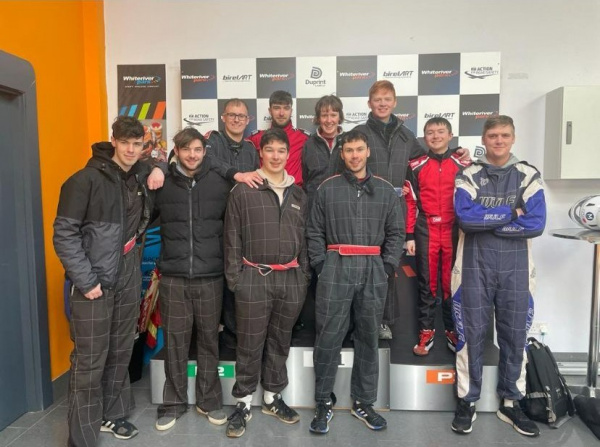 Motor Racing (Karting)
MTU Cork Karting Club is a fun and exciting club where students get to experience the thrill of driving fast around a track.
The MTU Karting Club hold various club events throughout the year where our drivers get to compete against each other in timed trials at both the National Karting Centre Cork and Kart World in Watergrasshill. 
We also compete at the intervarsity's SSI Karting Championship. This championship is a great experience for students to experience what its like to compete in Grand Prix events and it is a fantastic opportunity to meet drivers from other club who may have more knowledge and experience in the sport.
FAQ
Do I need my own equipment?
All karts and safety equipment will be provided by the tracks that we will be holding events at, so all you need to do is arrive and drive
Do I need to have previous experience?
No, previous experience is not required to be a part of our karting club! Our club welcomes individuals of all skill levels, whether you're a complete beginner or have some prior karting experience. Our main goal is to create a fun and supportive environment where members can learn, improve, and enjoy the thrill of karting together. Our experienced members  are more than happy to help newcomers learn the ropes and develop their skills. So, whether you're a seasoned racer or someone who's never been behind the wheel of a kart before, you're welcome to join our club.
Where will events be held?
Time Trials and Fun events will be held at the National Kart Centre Cork and at Watergrasshill throughout the year.
For our intervarsity team in the SSI Karting League, there will be races in Nutts Corner, Whiteriver Park and Watergrasshill.